On this page you can edit betting conditions individually per runner. There can be more than one race with listed runners, depending how many races you select on Races page before opening Runner conditions.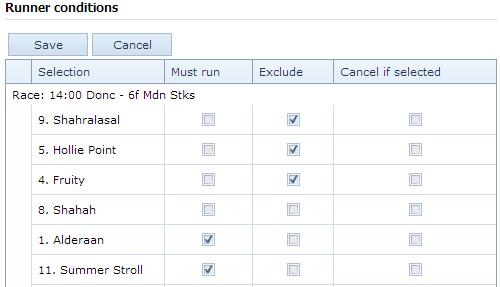 For each race there is a list of runners and you can tick conditions that you want to enable.
1. Must run – if enabled for a runner and the runner is withdrawn bets will be cancelled for the race.
2. Exclude – if ticked the bot will ignore the runner selecting a favourite. For example, you've set 1st Fav as your bet for the race. Lets assume that in the above image Shahralasal price is 2.0, Hollie Point is 3.5, Fruity is 4.0 and Shahah is 5.0. Normally the bot would pick the lowest priced runner (Shahralasal) as 1st Fav, but since first three runners have 'Exclude' ticked, the bot will ignore them and pick fourth priced runner, Shahah. The same way it works for 2nd Fav, first three runners are ignored and the bot picks 2nd Fav from other runners.
3. Cancel if selected – if enabled the bot will cancel bets for the race if the runner is selected as one of the bets. This option can be useful for example, when you bet on 1st Fav in the race, but want to skip the bet if 1st Fav is certain horse.
After setting up conditions click 'Save' button to save changes. Cancel button will close the window without saving any changes.