Basic steps setting up and using the bot.
1. Open http://my.5starbot.com and login using your email and password.
2. Click 'Betfair' in the top menu:

3. Enter your Betfair login and click 'Login to Betfair' button: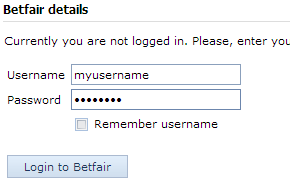 4. Click one of the three systems (System1, System2 or System3) in the top menu to start setting up respective system:

5. In the bottom part of the page set your Bank and choose Betting mode (it's better to select Simulation if you've just started learning the bot). Click 'Save changes' button: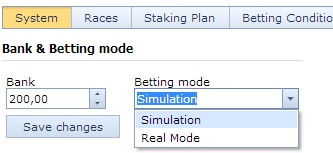 6. Click 'Races' menu to open races page. On the page click 'Load races' button: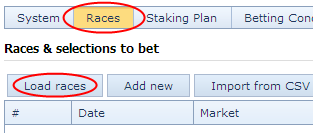 7. You will see 'Load races' form. If you need certain markets set up corresponding filter parameters, as it is described in our Bot reference. For simplicity you can leave default parameters, then the bot will load UK win markets and 1st favourite as selection. To add markets to the system click 'Load selected races' button in the Load races form:

8. You will return to 'Races' page. Now click 'Staking Plan' menu to choose and set up your staking plan. Don't forget to click 'Save changes' when you finish: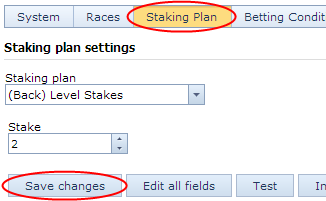 9. If you wish to make further set up of your system you can do this on other pages: Betting Conditions, Extra Features, Tipsters, Settings. For the first time you are using the bot it is okay to skip these options and use default settings.
10. Click 'Activate Betting' button in the top part of the page: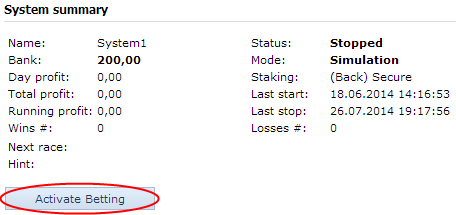 The button's text will change to 'Stop Betting' and Status will change to 'Running' which means the system is running and bets will be fired:

11. If you want to stop firing bets, click 'Stop Betting'. No bets will be placed until betting is started again.
12. While bets are firing open 'System' page or 'Main' page by clicking corresponding menu to see placed bets.